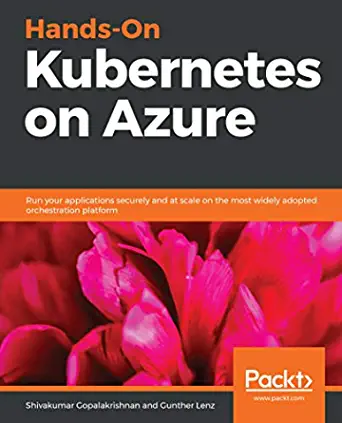 Hands-On Kubernetes on Azure: Run your applications securely and at scale on the most widely adopted orchestration platform
Efficiently deploy and manage Kubernetes clusters on a cloud
Key Features
Deploy highly scalable applications with Kubernetes on Azure
Leverage AKS to deploy, manage, and operations of Kubernetes
Gain best practices from this guide to increase efficiency of container orchestration service on Cloud
Book Description
Microsoft is now one of the most significant contributors to Kubernetes open source projects. Kubernetes helps to create, configure, and manage a cluster of virtual machines that are preconfigured to run containerized applications.
This book will be your resource for achieving successful container orchestration and deployment of Kubernetes clusters on Azure. You will learn how to deploy and manage highly scalable applications, along with how to set up a production-ready Kubernetes cluster on Azure. With this book, you will be able to reduce the complexity and operational overheads of managing a Kubernetes cluster on Azure.
By the end of this book, you will not only be capable of deploying and managing Kubernetes clusters on Azure with ease, but also have the knowledge of industry best practices to work with advanced Azure Kubernetes Services (AKS) concepts for complex systems.
What you will learn
Get to grips with Microsoft AKS deployment, management, and operations
Learn about the benefits of using Microsoft AKS, as well as the limitations, and avoid potential problems
Integrate Microsoft toolchains such as Visual Studio Code, and Git
Implement simple and advanced AKS solutions
Implement the automated scalability and high reliability of secure deployments with Microsoft AKS
Use kubectl commands to monitor applications
Who this book is for
If you're a cloud engineer, cloud solution provider, sysadmin, site reliability engineer, or a developer interested in DevOps and are looking for an extensive guide to running Kubernetes in the Azure environment then, this book is for you.
Though any previous knowledge of Kubernetes is not expected, some experience with Linux and Docker containers would be beneficial.
Table of Contents
Introduction to Docker and Kubernetes
Kubernetes on Azure (AKS)
Application Deployment on AKS
Scaling Your Application to Thousands of Deployments
Single Sign-On with Azure AD
Monitoring the AKS Cluster and the Application
Operation and Maintenance of AKS Applications
Connecting an App to an Azure Database - Authorization
Connecting to Other Azure Services (Event Hub)
Securing AKS Network Connections
Serverless Functions
Next Steps
About the Author
Shivakumar Gopalakrishnan is a DevOps architect at Varian Medical Systems. He has introduced Docker, Kubernetes, and other cloud-native tools to Varian's product development work to enable an everything-as-code approach. He is highly experienced in software development in a variety of fields, including networking, storage, medical imaging, and DevOps. He has developed scalable storage appliances for medical imaging needs and helped architect cloud ease solutions. He has enabled teams in large, highly regulated medical enterprises to adopt modern Agile/DevOps methodologies. He holds a Bachelor's degree in engineering from the College of Engineering, Guindy, and a Master's degree in science from the University of Maryland, College Park.
Gunther Lenz is the Senior Director of the Technology Office at Varian. He is an innovative software research and development leader, an architect, an MBA graduate, a published author, a public speaker, and a strategic tech visionary with over 20 years' experience. He has successfully led large, innovative, and transformational software development and DevOps teams of 50+ members. He has defined and led teams throughout the entire software product life cycle using ground-breaking processes, tools, and technologies. He was a Microsoft Most Valuable Professional for Software Architecture (one of the only 180 globally) from 2005 to 2008. Gunther has published two books: .NET-A Complete Development Cycle and Practical Software Factories in .NET.