Duration: 30hrs
Cost: Free Course and Paid Certification via Coursera
Schedule: Self paced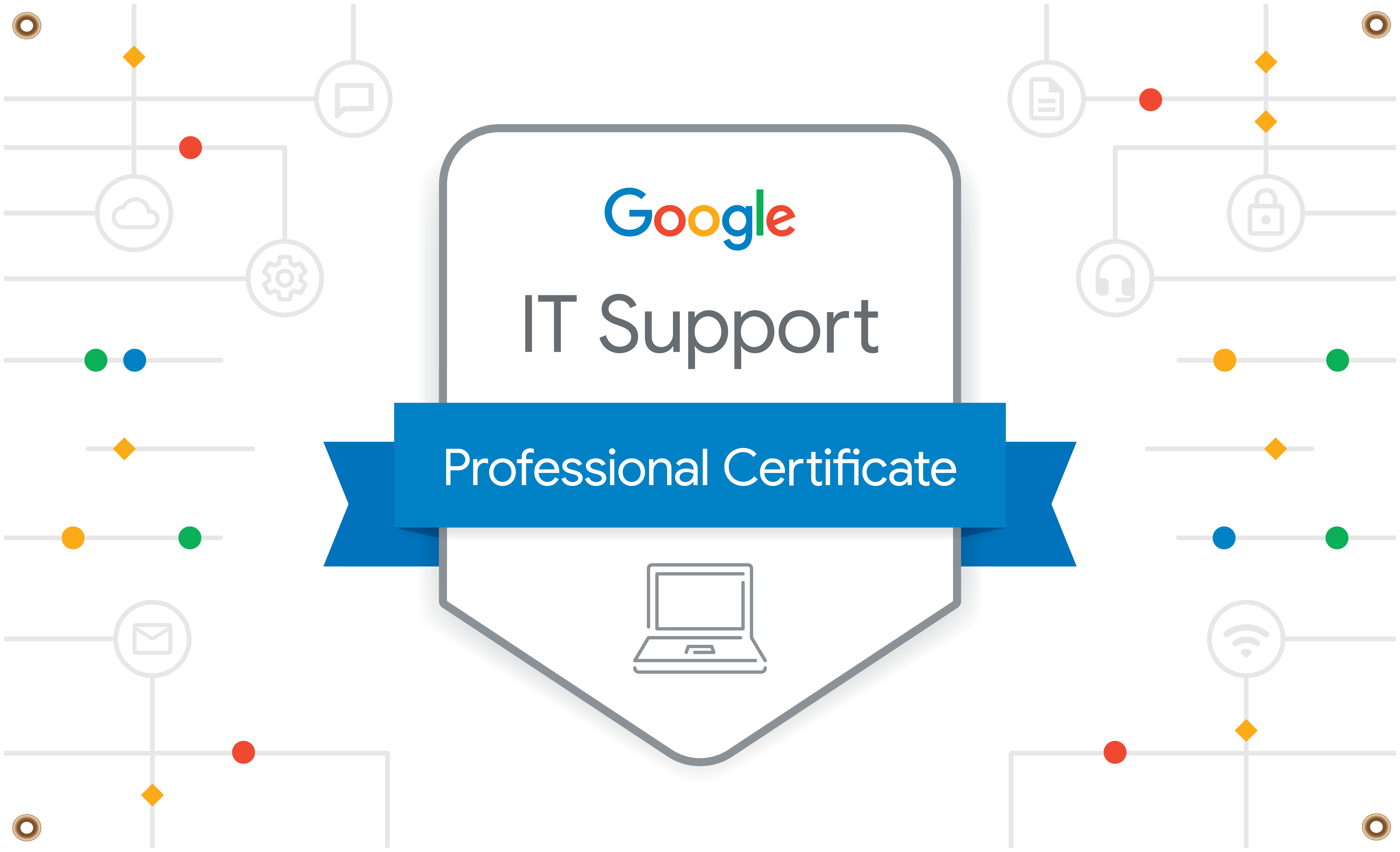 This is your path to a career in IT. In this program, you'll learn in-demand skills that will have you job-ready in less than 6 months. No degree or experience required.
About this Professional Certificate
Prepare for a career in the high-growth field of IT, no experience or degree required. Get professional training designed by Google and get on the fast-track to a competitively paid job.
There are 400,000 U.S. job openings in IT and a $52,000 median entry-level salary in IT support.¹
Over 5 courses, learn in-demand skills that prepare you for an entry-level job.
Upon completion, you can directly apply for jobs with Google and over 150 U.S. employers, including Walmart, Best Buy, and Astreya.
75% of Google Career Certificate Graduates in the United States report an improvement in their career trajectory (e.g. new job or career, promotion or raise) within 6 months of certificate completion²
This program also prepares you for the CompTIA A+ exams, the industry standard certification for IT—you'll earn a dual credential when you complete both.
This program is ACE® approved—when you complete, you can earn up to 12 college credits, the equivalent of 4 associate degree-level courses.
If you're interested in building on your IT foundations, check out the Google IT Automation with Python Professional Certificate.
Topics
Google Technical Support Fundamental
Google IT Automation
Learn Computer Networking by google
Learn Operating Systems by Google
Learn System Administration by google
Learn IT security by google
¹US Burning Glass Labor Insight Report salary data (median with 0-5 years experience) and job opening data. Data for job roles relevant to featured programs (4/01/2021 - 3/31/22).
²Based on program graduate survey responses, United States 2021
Course video
---
This course is the first of a series that aims to prepare you for a role as an entry-level IT Support Specialist.
In this course, you'll be introduced to the world of Information Technology, or IT.
You'll learn about the different facets of Information Technology, like computer hardware, the Internet, computer software, troubleshooting, and customer service.
This course covers a wide variety of topics in IT that are designed to give you an overview of what's to come in this certificate program.
By the end of this course, you'll be able to:
understand how the binary system works
assemble a computer from scratch
choose and install an operating system on a computer
understand what the Internet is, how it works, and the impact it has in the modern world
learn how applications are created and how they work under the hood of a computer
utilize common problem-solving methodologies and soft skills in an Information Technology setting
Course video
---
This course covers a wide variety of IT security concepts, tools, and best practices. It introduces threats and attacks and the many ways they can show up. We'll give you some background of encryption algorithms and how they're used to safeguard data. Then, we'll dive into the three As of information security: authentication, authorization, and accounting. We'll also cover network security solutions, ranging from firewalls to Wifi encryption options. The course is rounded out by putting all these elements together into a multi-layered, in-depth security architecture, followed by recommendations on how to integrate a culture of security into your organization or team.
At the end of this course, you'll understand:
how various encryption algorithms and techniques work as well as their benefits and limitations.
various authentication systems and types.
the difference between authentication and authorization.
how to evaluate potential risks and recommend ways to reduce risk.
best practices for securing a network.
how to help others to grasp security concepts and protect themselves.